Whet Your Palette: Explore exhibitions at York Region art galleries
Feast your eyes on some thought-provoking artwork in York Region
Yorkregion.com
March 11, 2020
Amanda Persico
Get lost in one of York Region's galleries enjoying engaging, confounding, fanciful or thought-provoking works of art.
Where to explore art in York Region:
Aurora Cultural Centre
22 Church St., Aurora
At the Aurora Cultural Centre, arts, heritage and culture merge with vibrant galleries, interactive concerts and performances and engaging exhibitions and a slew of art classes and workshops from watercolour painting to DIY home décor.
Georgina Arts Centre and Gallery
149 High St., Sutton, Georgina
The Arts Centre is home to a number exhibits featuring local artists as well as open mic sessions, songwriting classes and workshops. Learn about the secrets behind famous paintings and renowned artists.
Olde Mill Art Gallery
357 Main St., Shomberg, King Township
Located in the historic feed mill, the artist co-op features local artists and artisans, from woodcarvers to painters and jewelry makers. Artists are on hand to showcase their work and demonstrate their techniques.
Varley Art Gallery
216 Main St., Unionville, Markham
Along with honouring the life and work of Group of Seven founder Fred Varley, the Varley Art Gallery also hosts an annual community-artist-in-residence program, moving art beyond gallery walls and into the community.
Old Town Hall
460 Botsford St., Newmarket
Built in the late 1880s, Old Town Hall served as Newmarket's political centre, courtroom and market place. Now, the historic building is home to a number of art galleries, exhibits, performances, guided art tours and specialty art sessions.
Mill Pond Gallery
314 Mill St., Richmond Hill
Home of the Richmond Hill Group of Artists, the gallery features artwork from different local artists each week. The gallery is also home to a number of art workshops, art talks and group shows and sales.
McMichael Canadian Art Collection
10365 Islington Ave., Kleinburg, Vaughan
Located on forested land along the Humber River, the McMichael is devoted to collecting the art of Canada. Now on display, "A Like Vision", celebrating the finest works from the Group of Seven.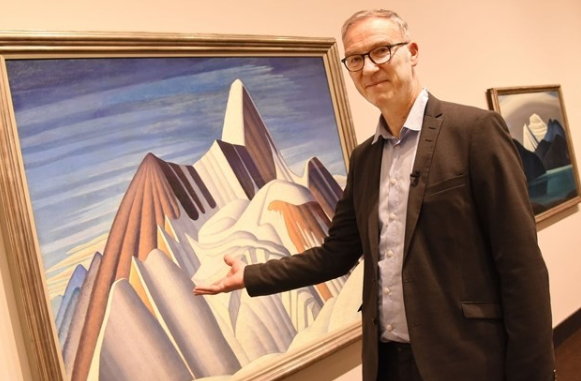 McMichael Canadian Art Collection executive director Ian A. C. Dejardin stands with a piece called Mount Robson by Lawren Harris of Group of Seven fame. Dejardin has delved deep into the gallery's vaults to make a very personal selection of works to showcase for the exhibition entitled The Art of Canada: Director's Cut. - Susie Kockerscheidt/Metroland
Latchem Art Centre
2 Park Dr., Whitchurch-Stouffville
The Latchem Art Centre hosts three to four curated art exhibits each year. Exhibitions are complemented with educational programs, art workshops, lectures and guided tours. The centre also hosts an annual juried exhibition featuring artwork from local students.