Census 2016: More than half of Torontonians identify as visible minorities
South Asian, Chinese communities are among the largest in the city
CBC.ca
Oct. 25, 2017
Julia Whalen

The majority of people living in Toronto identify themselves as visible minorities, newly-released data from Canada's 2016 census shows.
More than half of respondents — 51.5 per cent — said they belong to a visible minority. That is up from 47 per cent back in 2011.
In Canada, visible minority groups represent 22.3 per cent of the population.
The latest data set from the 2016 census focuses on the population related to immigration, ethnocultural diversity, housing and Indigenous people. It found 21.9 per cent of Canadians are immigrants, the highest share in 85 years.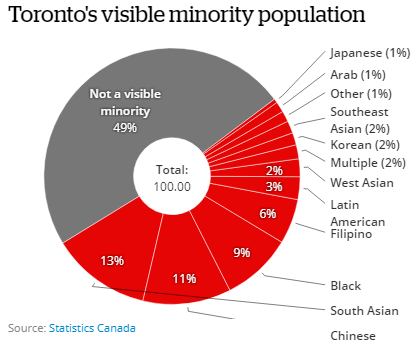 South Asians make up the largest group of visible minorities in Toronto, at about 13 per cent of the total population. Another 11 per cent of visible minorities are Chinese, while nine per cent are black.
78% identify as visible minorities in Markham
The data shows a growing diversification elsewhere in the Greater Toronto Area, too. The majority of respondents in five other municipalities — Brampton, Mississauga, Markham, Richmond Hill and Ajax — also identified as belonging to a visible minority group.
The highest percentage is in Markham, where nearly 78 per cent of the population belongs to a visible minority group. That is up from 72.3 per cent in 2011.
The biggest jump in five years occurred in Brampton, where the percentage of people identifying as a visible minority grew from 66.4 per cent in 2011 to 73.3 per cent in 2016.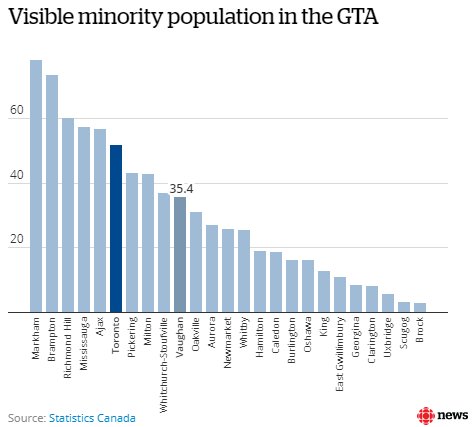 The diversity of Toronto was also clear with people's first languages. While English remained the majority language with nearly 1.4 million respondents, more than 245,000 Torontonians said their mother tongue is a Chinese language — Cantonese or Mandarin, for example.
Some of Toronto's other prominent first languages include Tagalog, Spanish, Italian, Portuguese and Tamil.