Italian female politician given first-ever Vaughan key to city
Laura Boldrini a trailblazer for women's issues, human rights and social justice, says mayor
Yorkegion.com
Oct. 20, 2017
By Tim Kelly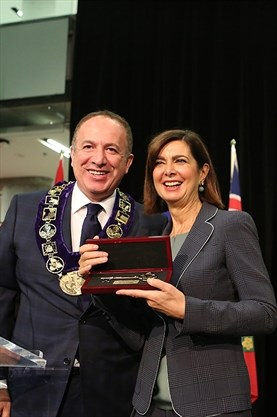 An Italian female politician was presented with Vaughan's first-ever official key to the city on Thursday at Vaughan City Hall.
Laura Boldrini, president of the Chamber of Deputies in Italy and an Italian member of Parliament, is head of the Italian lower house and is one of the country's highest ranking officials. She is only the third woman to hold her position in the country's history. She has won numerous awards, including the official medal of the National Commission on Equal Opportunities, the Order of Merit of the Italian Republic, Press Officer of the Year by the National Council of the Journalists' Association and Italian Woman of the Year by the weekly magazine Famiglia Cristiana.
Mayor Maurizio Bevilacqua paid tribute to Boldrini.
"The Hon. Laura Boldrini is a trailblazer in Italian Parliament, particularly for women's issues, human rights and social justice. As a true servant leader, she understands that there is no higher purpose than to make a meaningful contribution to society, and ultimately, a positive difference in people's lives."
Established in 2015, the key to the city is given to distinguished individuals as a recognition of their contributions in business, sport, arts and culture, public service, education or human rights.