The house is sold, but nobody's home
An apparent surge in vacant houses in the suburb of Oakville, Ont., spurs heated talk of speculators and foreign buyers
TheGlobeAndMail.com
April 10, 2017
Joe Friesen and Jill Mahoney
It's a 2,000-square-foot home with four bedrooms, a huge yard, patio and two-car garage in a sought-after district of southeast Oakville, Ont. The surrounding neighbourhood is as Pleasantville as Greater Toronto gets, with attractive houses, well-kept lawns and stellar schools. As one resident put it, "a vibrant family neighbourhood: kids, dogs, the whole cliché."
In 1999, the house sold for $245,000 and in 2007 for $545,000. It sold again in 2011 for $631,000. By 2016, its selling price had skyrocketed to more than $1.2-million. Now, it's empty.
Down the block, a house sold in January for $1.3-million and it's empty, too, waiting to be torn down, neighbours say. Across the road, a house sold twice last year, first for $1-million, and then for $1.5-million. It sat empty for a year until short-term renters moved in this week. Around the corner, a three-bedroom house with a pool sits empty, as does a nicely renovated bungalow. A stone's throw away, a house that sold for $1.4-million this year is listed for lease, just two houses away from one that sold for $1.5-million six months ago and remains unoccupied.
While vacant houses are by now a familiar sight in Vancouver, it's a new phenomenon in the Greater Toronto Area, where residents are increasingly concerned that houses are being snapped up by investors or speculators, many of whom are content to lose money in the short term by renting at a loss or not at all.
There's no accurate measure of vacancy or data on the reasons homes are unoccupied. Likewise, Ontario has no tracking of foreign ownership. An analysis of 2016 census data found 99,236 unoccupied dwellings, roughly 4.4 per cent of all dwellings in the Toronto census metropolitan area. But Statistics Canada cautions that these figures may include situations in which residents have two homes, such as students. Planners believe utility usage is a better indicator, but a thorough analysis has yet to be completed in the Toronto region.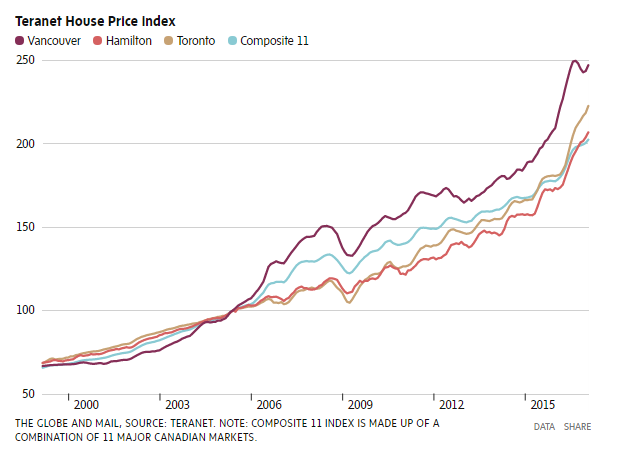 A recent study by brokerage Realosophy estimated that as many as three in 10 homes in the region in 2016 were bought by investors or speculators.
As the most recent data show price rises of more than 30 per cent for detached homes in the past year in the GTA, and economists warn about the danger of a housing bubble, concerns about housing speculation and foreign investment now top the political agenda in Ontario. With the federal Finance Minister expressing his concern this week about housing prices in and around Toronto, and the Ontario government recently advocating an increase in the capital-gains tax on housing, many are wondering whether the province or Toronto-area municipalities will follow Vancouver's lead and impose taxes on foreign buyers and vacant homes.
As governments analyze data and ponder next steps, residents in many GTA communities are growing anxious. Dora-Lee Pope stood at a packed residents' association meeting in an Oakville church last week, dressed in red, flanked by two-dozen supporters in scarlet sweaters, to demand action from Mayor Rob Burton.
"On my drive home from work, taking no side streets, there were seven empty houses," Ms. Pope said. A murmur of concern ran through the crowd. "I'm wearing red, and I've asked my neighbours to wear red, to express how hot the market is and how hot the issue is."
Though unintentional, red also evokes China, which most residents at the meeting believe is the source of these new buyers. Few are willing to say so publicly, afraid of appearing xenophobic.
'Meat for speculators'
No matter who's buying, whether local or foreign, everyone agrees vacant homes are hurting the community. Mr. Burton is sympathetic to worried residents. He has been talking about this issue for some time now, he says, but the power to act lies with the provincial government. And it ought to be co-ordinated with other municipalities in the region.
"There's anger all over the GTA where this is happening. It's a serious problem," Mr. Burton says, noting it's hard to judge the scale, but the anecdotes abound. He has asked residents to send him addresses.
Statistics Canada data show there were 2,348 unoccupied private dwellings in Oakville as of last year's census, which was conducted in May. That's a 63-per-cent increase from the 2011 census, when the figure was 1,482. (However, there was a similar number of unoccupied homes – 2,300 – in Oakville in 2006.)
In the year since the last census, Mr. Burton said he believes the number has climbed. Everywhere he goes, residents tell him about houses going dark. He receives daily phone calls and e-mails reporting the addresses from "angry moms and housewives."
"It's clearly gotten worse," he says. "All across town, these homes are being taken out of use and turned into speculators' investments and they're sitting empty …. It diminishes our community and that's why it's a problem and that's why the pressure is rising, because people value the communities in which they live. They don't want to be meat for speculators."
Mr. Burton welcomes news that federal Finance Minister Bill Morneau wants to discuss rising GTA housing prices with Ontario Finance Minister Charles Sousa and Toronto Mayor John Tory.
"Speculation in real estate's always been with us. What's new is this torrent, this tsunami of offshore investment."
The race discussion
The Globe checked the property records for a handful of homes identified as vacant by residents. The homes were sold as long ago as 2013, and as recently as early 2017, for prices ranging from $835,000 to $1.5-million. Public records show that four of the seven owners also own other properties in the Greater Toronto Area. The majority of buyers have East Asian names, but this is not a clear indication of foreign ownership.
Many residents in southeast Oakville link the larger number of vacant homes to an increase in real estate signs from Elite3 Realtors, which has become become a major player in the local real estate market, and date the rise of the phenomenon to the past 12 to 18 months.
Agent Sabrina Tu, who is part of the team with Grace Zhang and Eric Chen, confirms they are doing well, but says they aren't responsible for the rise in empty houses and believes racism is at play. Ms. Tu has heard the chatter about her firm and argues they are in no way responsible for the town's vacancy crisis, saying that none of her buyer clients has left a house empty long-term.
"It's unfair for us to shoulder the responsibility of other buyers who happen to leave the house vacant because we didn't encourage that and our clients didn't do that and … why would we be responsible for something that is totally out of our control?"
When her team puts a "For Sale" sign in front of a house, some people make the mistake of thinking that they also represent the eventual buyer of the property, Ms. Tu said, when in fact most buyers have their own agents. As well, Ms. Tu noted that houses are sometimes unoccupied for a short period of time while new owners look for tenants or plan renovations. As Elite3 has become more active in the past couple of years, Ms. Tu said competing agents became unhappy and her team has been the target of racist remarks.
"[There's] a general phenomenon that more Chinese buyers come into this particular pocket and some of them do rent it out or leave it vacant for some reason. I cannot deny that fact, but how that fact is related to us, I can't get it. Because way before we get into this market … it has been like this – more and more Chinese buying in and not necessarily through us. We cannot be responsible for the buyers. It's their decision."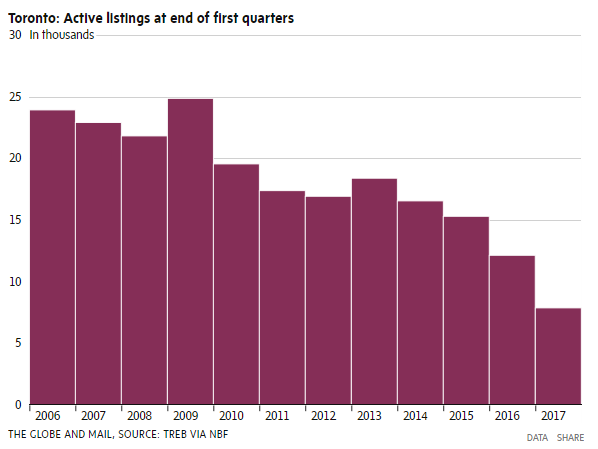 Ms. Tu says Oakville appeals to buyers of Chinese backgrounds because of its highly ranked schools and prices are relatively affordable compared with other suburbs, including Markham or Richmond Hill.
Ms. Tu is part of the Real One Realty Inc. brokerage, which specializes in working with buyers of Chinese backgrounds.
Of her team's clientele, she says less than 20 per cent of buyers are foreign. The majority are from the GTA, with some also from other parts of Canada. Less than 10 per cent of her team's clients are investors. Since the beginning of 2017, Ms. Tu says she and her partners have had about 20 sales in southeast Oakville and represented about 10 successful buyers.
Most of her clients move into their new homes and become part of the community, Ms. Tu says. A "very, very small amount" of buyer clients opt not to move in right away, she says, sometimes because they are in the process of immigrating to Canada. In such cases, her team always advises clients to rent their new homes within a month or so, and helps them find tenants.
"I can see the point from the residents because if the house remains vacant, that means that there's a lack of proper maintenance and care of the house. And in the long run, it's not good for the community, which I totally agree with," she says.
Dave Kamerman and his family live on All Saints Crescent, across the road from two houses that are currently empty.
"I don't like it. It's not great for a community when people aren't living in their homes." He has watched home values soar in Vancouver and is concerned it may be too late to stop the shift of foreign buyers to the GTA. The percentage of foreign buyers in Greater Vancouver was in double digits before its tax hit the sector.
"In Vancouver, it's not housing for ordinary people any more. People need houses to live in, and there are houses going empty," he says. "It's a strange phenomenon. You wish the government would do what they did out West and just put a tax on it."
New housing taxes out West did not come quickly.
What the data say
Back in 2009, Andy Yan knew exactly which urban issue he wanted to study when starting as a researcher at storied Vancouver architect Bing Thom's firm: empty homes.
Rumours abounded that thousands of vacant condos were blighting the downtown peninsula while long-time residents of the city's tony west side were beginning to report an increase properties with knee-length grass and invisible neighbours. Mr. Yan wanted data.
Using BC Hydro records, he took a representative sample of downtown residential buildings and found 5 per cent to 8 per cent of the units used less electricity each month than it took to power the average modern fridge.
That study didn't make much noise, but four years later, he launched a public conversation that continues to this day around whether those earning a local income deserve to own property in Vancouver. He found that nearly a quarter of homes in the expensive Coal Harbour neighbourhood, which offers stunning views of nearby Stanley Park and the North Shore mountains, were either empty or being used as a pied-à-terre.
"How do you run a small grocery or a small business downstairs expecting all this local population and they're not showing up?" he said of the experience in that hollowed-out neighbourhood.
Earlier this year, Mr. Yan showed new 2016 census data indicated Metro Vancouver homes left vacant or not used as primary residences accounted for 6.5 per cent of the region's housing stock. Looking to Toronto, he says gathering as much data as possible is crucial to crafting effective housing policies.
"Are you building for people or are you building for investment?" he asks. "Who are you trying to house?"
Mr. Yan, a third-generation Vancouverite of Chinese descent, faced criticism two years ago when his study of land-title data in three affluent Vancouver neighbourhoods found two-thirds of recent buyers had non-anglicized Chinese names and thus, he concluded, were new immigrants.
Critics called his methodology racist, but Mr. Yan acknowledged he could only deduce that buyers were purchasing with money from mainland China because those dependent on the local job market could not afford the multimillion-dollar homes he studied.
In Toronto's red-hot real estate market, recently sold houses sit empty because offshore speculators are often looking for a place to park their money and don't want the headache of finding and managing tenants, said John Pasalis, president of Realosophy Realty Inc.
Like the stock market, GTA real estate has become a commodity to be traded, he said.
"Rather than putting it in the stock market, they've just been buying houses. It's like the new gold bars, you know what I mean? In crazy markets, people used to just stock up on gold when they didn't know where to put their money. Well, now they're buying houses or single family homes and they're just letting them sit there."
Kathy Klein has lived in the Oakville area for more than 50 years. She came to Canada after the Second World War and her husband worked at Ford as a steamfitter. She's in her 80s now and astonished that her modest 1,000-square-foot bungalow would sell today for more than a million dollars. She knows because the realtors drop by every few weeks to ask whether she'll sell.
Two doors down, a house has been vacant for three months. A thick coil of yellow industrial tubing sits on the lawn, surrounded by other detritus. She sees the vacant homes on her walks, noting a lot of "For Rent" signs in an area that used to be almost exclusively homeowners. She knows of some sales where the properties were purchased sight unseen, such is the scramble to get a piece of this market.
"The buyers didn't even look at the house. They fixed it up, made it look nice and nobody even looked at it. They just bought it," she said. "I think it's terrible that the prices go up like this and these young people can't afford a place to live in. Both my grandchildren are working and have a decent income but they can't afford it."
Of course, the current homeowners are also aware that they are sitting on a small fortune. They ponder whether to sell, and if they do, where they might go. Carol Acri has lived in the area for 30 years and doesn't particularly want to leave. She hates to see her long time neighbours go, but when asked whether she'll join the exodus she shrugs and smiles.
"Everybody has a price, eh."