Curve appeal
How one architecture firm torqued familiar forms and planes to create a building that serves both an aesthetic and social purpose
TheGlobeandMail.com
Nov. 9, 2016
By Alex Bozikovic
Start with a book. Choose a paperback - a rectangle full of flat rectangular pages; then push the pages apart between your fingers, until the stolid right angles open up into a complex splay.
Now you've got a good sense of the geometry of the new Vaughan Civic Centre Resource Library, which opened this fall in the suburban municipality just north of Toronto.
The five-sided building by ZAS Architects starts with familiar forms and planes, then bends and torques them: Its aluminum facades curve in three dimensions, while rectangular windows rotate playfully off-axis.
And yet once you step inside, the building's grey-and-glass facade opens to reveal an interior that is easy to navigate, bright and colourful, with open reading halls that wrap around a courtyard. Swooshy and surprising on the outside, lively and inviting within. This is architecture that shows off in order to bring people together.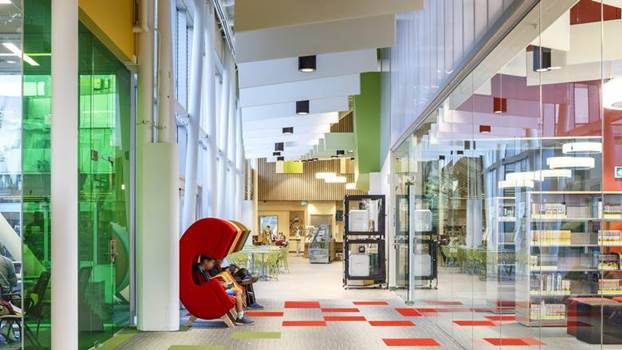 The interior of the Vaughan Civic Centre Resource Library features a sequence of small and large spaces, all served by the bright, glassed-in courtyard.
These days, libraries work not as temples of knowledge but as gathering places, and projects such as Vaughan's suggest how expressive architecture can serve a social purpose. "The building fits the new role of the library as a social condenser," says architect Peter Duckworth-Pilkington, who led the project along with Paul Stevens.
That begins with a certain attitude on the part of the library and of the architects. The Vaughan library system's CEO, Margie Singleton, says her organization aimed for the new branch to reach a broader set of users. "We wanted to use the building," she says, "like Eaton's or Simpsons used their display windows - to engage with the public."
But what's on display isn't books so much as people. The building sits up against Major Mackenzie Drive, an arterial road, and its windows on that side are lined with a reading area; patrons in acid-green chairs sit and browse, silhouetted in those angled windows as drivers speed past. "This is a building that works at 60 kilometres an hour," says Duckworth-Pilkington.
And in this car-oriented suburb, the promise of novelty and community should be enough to draw people in. "We were also thinking about how people meet," says Duckworth-Pilkington, "how communities are formed in a physical environment, and how people express their creativity."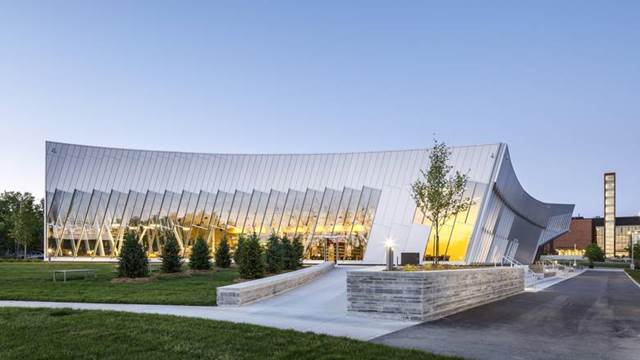 The library is part of a new civic campus in Vaughan, that will cover 24 acres with a square, skating rink and other public buildings.
The latter is an important part of libraries' new role, and at Vaughan this is served by a media suite including a green room, audio tracking room and video production studio.

The unusual form of the building itself encourages this kind of creative activity. "It signals that this is not the kind of library you're used to," Singleton says. Still, most of the main floor is filled with familiar elements: the main collection, workspaces and - in an intimate and very busy side niche - the children's collection.
The architects have executed this design quite well, creating a workable and comfortable sequence of small and large spaces, all served by the bright, glassed-in courtyard. It is hard to design a building with this sort of complex geometry; it takes practice to get it right, and to marry a novel form with (inevitably) boxy rooms. ZAS ran into that problem when it designed the Bergeron Centre for Engineering Excellence at nearby York University; it's shaped like a drum, but most of the curves are lost to aimless corridors while the rooms within gather at right angles. There, showiness and function don't marry well.
But the Vaughan library, essentially, is a grand open hall. This is what libraries have always been; and while the program offerings of these institutions have changed, their architecture has welcomed experimentation. Look at Surrey's curvaceous City Centre Library, or Halifax's new pile of stacked boxes, or Toronto's Scarborough Civic Centre Branch, its roof a jumble of timber pick-up sticks.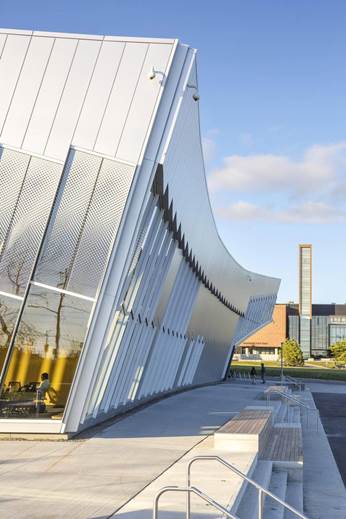 In each case the purpose of the building, and its public spirit, is linked to the forms. Architecture sends a message.
But it always does, if you look hard enough, and here in Vaughan, the library is part of an ambitious piece of urbanism. The nascent civic campus, designed by KPMB Architects after a design competition, will cover 24 acres with a new square, skating rink and other public buildings. Already here is the KPMB-designed City Hall, opened in 2010, a sublime assemblage of terracotta, limestone, glass and concrete that suggests a village in itself.
That building makes some gestures to neoclassical architecture: There are a clock tower and a central square, and the hall frames long views down axes into Vaughan. It's also almost entirely made up of right angles; the only exception is the saucer-shaped city council chamber, clearly inspired by its counterpart in Toronto's City Hall. This saucer among boxes is visibly distinct, and important; the forms here separate day-to-day bureaucracy from the high-minded work of civic discourse. (That's the idea, at least.)
In this context, ZAS looked at several sites within the block and suggested a revision. "We eventually got some good visual real estate for the library," says ZAS's Paul Stevens. Since the library was much smaller than City Hall, the challenge was making it stand out. "We were worried that it would be visually overpowered by this very formal civic building," Stevens said. "We wanted to establish some consistency, but still define it as a unique building as part of that campus."

And how does the library engage with its neighbour? By being quiet in colour but distinctly un-square. It is curvy, playful, irregular - it embodies the boundary-stretching wildness of art, inviting a playful search for knowledge. If city council sits in a saucer, citizens can read and think, and meet each other, in a doughnut. And then pick up a book on the way out.