GTA's condo boom brings golden opportunity for YMCA's child care plans
After 50 years of providing child care services, the YMCA looks to a new model of expansion
Cbc.ca
April 2, 2018
Philip Lee-Shanok
As YMCA of Greater Toronto celebrates a half century of providing child care, it's looking at partnerships to fund the construction of new facilities in more communities in the future.
"We take great pride in our capability and capacity to develop and to innovate. Our mantra here is to bring more YMCA programs to more people in more communities and we're quite flexible in how we do that," says Medhat Mahdy, YMCA GTA's president and chief executive.
Looking back over 50 years, he says the organization's child care services have evolved with the city. Its first licensed program in Toronto opened in 1968 at the Parkway Forest Jr. YMCA. The building, south of Sheppard Avenue near Don Mills Road, was home to a preschool until 2015 when it was replaced by a new purpose-built centre.
Mahdy says the organization has grown in five decades from a handful of child care locations to 293 facilities providing care for 19,000 children daily, which makes it the largest non-profit provider of child care in the country.
But developing new centres is expensive, so Mahdy says a $350-million capital expansion plan will use a partnership model that's emerged only recently. The YMCA, the city and developers jointly fund construction wherever it's a possibility.
"We are also finding that as we work with more and more developers, they are looking for how they can include child care in their developments as a community asset," says Mahdy.
He points out plans for Vaughan Metropolitan Centre include a 77,000-square-foot YMCA facility that will be at the heart of a new urban neighbourhood that's expected to add some 25,000 people around the recently opened subway station.
Vertical living brings changing needs
Mahdy says people in such new communities will need services, child care chief among them.
"Where ever we are working with developers, we are looking at what that the local community needs and we will be providing those programs," he says.
In fact, three of the YMCA's new facilities are integrated into new condo developments, says Mahdy, offering service to families who live in otherwise under-served areas.
"They are actually coming to us. And I think a big part of it is, if it's a development around a business they are looking for child care," he says.
"If it's a vertical community — with more families in condos right now, child care is becoming a big piece of the whole development process."
Don Schmitt is a founding partner at Diamond Schmitt Architects and helped design the master plan for Vaughan Metropolitan Centre. He says the Central Toronto YMCA is an example of a facilty that has become a community hub. (Supplied by Diamond Schmitt Architects)
Don Schmitt is a founding partner at Diamond Schmitt Architects. He helped design the master plan for the Vaughan Metropolitan Centre, which includes a public library.
"It's an investment in a community hub," says Schmitt, adding that developers are aware of how such facilities become central to a community. He points to the Central Toronto YMCA as a facility that has fulfilled the role of community hub.
Two other YMCA facilities are being built using the same partnership model: a 60,000-square-foot community centre is part of the condo development on Kingston Road, between Beech and Balsam avenues, and the Waterworks revitalization project near Spadina Avenue and Richmond Street.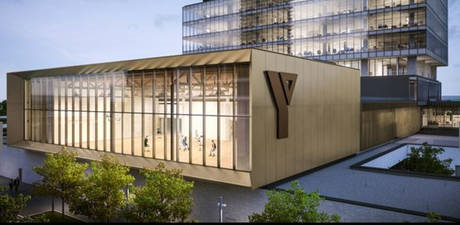 A rendering of the Kingston Road YMCA, a 60,000-square foot community centre that is part of the condo development between Beech and Balsam avenues.  (Supplied by YMCA of Greater Toronto)
Schmitt's firm is also involved with the Waterworks project, which will include 290 condo units and the 54,000-square-foot McDonald Family YMCA. The development will also house other community services, such as Eva's Initiatives for Homeless Youth.
He says most of new facilities the YMCA has planned will have some sort of partnership with developers.
"These partnerships not only contribute to the capital costs, but it also embeds the project in communities. It's a key opportunity," says Schmitt.